Apneia | Apnea
Carol Sakura, Walkir Fernandes
15:00 | Brazil | 2019
Muriel could not swim, she was so afraid. A fear that echoed the distance of her mother and brought up monsters of childhood. She now seeks the voice and air that she always lacked as a girl and a woman.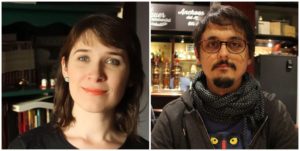 About Directors
CAROL SAKURA é Mestre em Letras pela UFPR. É escritora e roteirista com projetos de animação, quadrinhos e literatura. Atuou como roteirista e diretora do curta-metragem "Apneia", premiado como melhor filme no festival de Gramado, e como roteirista do curta-metragem em animação "Gente Grande". Foi editora e roteirista da antologia "Bocas Malditas: Curitiba e suas histórias de gelar o sangue", roteirista da HQ "Barão do Serro Azul, Herói da Paz" e autora do livro infantil "Anacleto, o balão".
WALKIR FERNANDES atuou em produções de animação para longa-metragens, séries e curta-metragens premiados no Brasil e exterior. Destaque para os prêmios de Melhor Curta-metragem no 47º Festival de Cinema de Gramado, Melhor Curta-metragem segundo a crítica carioca no 27º Animamundi, Prêmio Canal Brasil no 23º Cine-PE, Melhor Direção de Arte e Melhor Trilha Sonora no 42º Festival Guarnicê, AnimaTV, 33º Eko Film Festival, Green Nation Fest e duas indicações no Grande Prêmio do Cinema Brasileiro.