White Lobster | Langosta Blanca
Paul Gomez Lopez
8:35 | Mexico | 2019
3 humble fishermen surviving in a unpropitious sea, today they will find a misterious white lobster that will show them their deepest wills and dreams, but also can drag them to a dark path of perdition and greed.
Official Selection / Selección Oficial:
14th ATHENS ANIMFEST / Greece
5th Tlanchana Digital Arts Fest / Mexico
4to AQUA Film Festival / Roma, Italia
11th Festival Internacional de Cinema da Fronteira / Bagé Brasil
4th Festival de Cine Hispanofónico de Atenas / Grecia
19th Festival El Cine a la calle FICICA / Medellín Colombia
Pazmany Film Festival / Budapest Hungría
23th To save and preserve / Environmental film and television Festival / Khanty-Mansiysk Rusia
6th Festival Internacional de Cortos de Pineda del Mar / Barcelona España
11th Siciliambiente Film Festival / Sicilia Italia
4th Ipiales Sin Fronteras / Nariño Colombia
9th Festival Internacional de Animación "Cartón" Bs As Argentina
13th "Animanima" International Animation Film Festival / Casak Serbia
25th "CINE ECO SEIA" Festival Internacional de Cinema Ambiental da Serra da Estrela / Seia Portugal
14th Shorts Mexico / CDMX
12th Animasyros Animation Festival / Syros Greece
26th Festival de Cine Latinoamericano de Rosario / Argentina
3rd Chaniartoon Film Festival / Greece
8vo Festival de Cine Mexico Alemán CineMA / SLP México.
13th Baixada Animada / Rio de Janeiro / Brasil
5to Festival Internacional de Cine Kayche Tejidos visuales / Mérida México
17th Morelia International Film Festival / Mexico
12th Banjaluka Anima Film Festival / Bosnia & Herzegovina
2nd CRAFT Animation Film Festival / Yogyakarta Indonesia
4to Festival Internacional de Animación ANDIMOTION, Bogotá Colombia
8vo Festival de Cine Independiente FECILBBA / Bahía blanca Argentina
11vo Festival Internacional de Animación Cut Out Fest / Querétaro México
11vo Festival de Cine y Artes Visuales BUGARTE 7 Guadalajara de Buga Colombia
16vo TAFIC Festival de Cine corto de Tapiales / Argentina
2020:
7mo Chennai International Short Film Festival / India
Best Animation on Moviescreen Pro
6th FECISLA Festival Internacional de Cine en la Isla / Cartagena Colombia
FAF Floria Animation Festival, Tallahassee FL
Awards / Premios:
Nominado Mejor Animación Internacional / 22th ICARO Festival Internacional de Cine de Centroamérica / Guatemala / 2019
15th Monterrey International Film Festival / México 2019 / Best Mexican Short Animated Film
6th TAFFNY The Americas Film Festival of New York / USA 2019 / Best animation short film
3er Festival Internacional de Cine de Ciudad Madero Tamaulipas, México 2019
Mejor animación
Mejor director
Mejor guión
Mejor musica
Mejor diseño de arte
Mención Honorífica 14vo Encuentro de videocorto "A pantalla abierta" UAEM Edomex 2019
Nominado Mejor Animación: 4th PARANA Film Festival / Argentina 2019
5to Festival de Cine APANEROWA / Ciudad Juárez México / Ganador mejor cortometraje
7th Festival Polla en Corto "Corti a Sud" Salerno Italia 2019 / Ganador Mejor cortometraje de animación.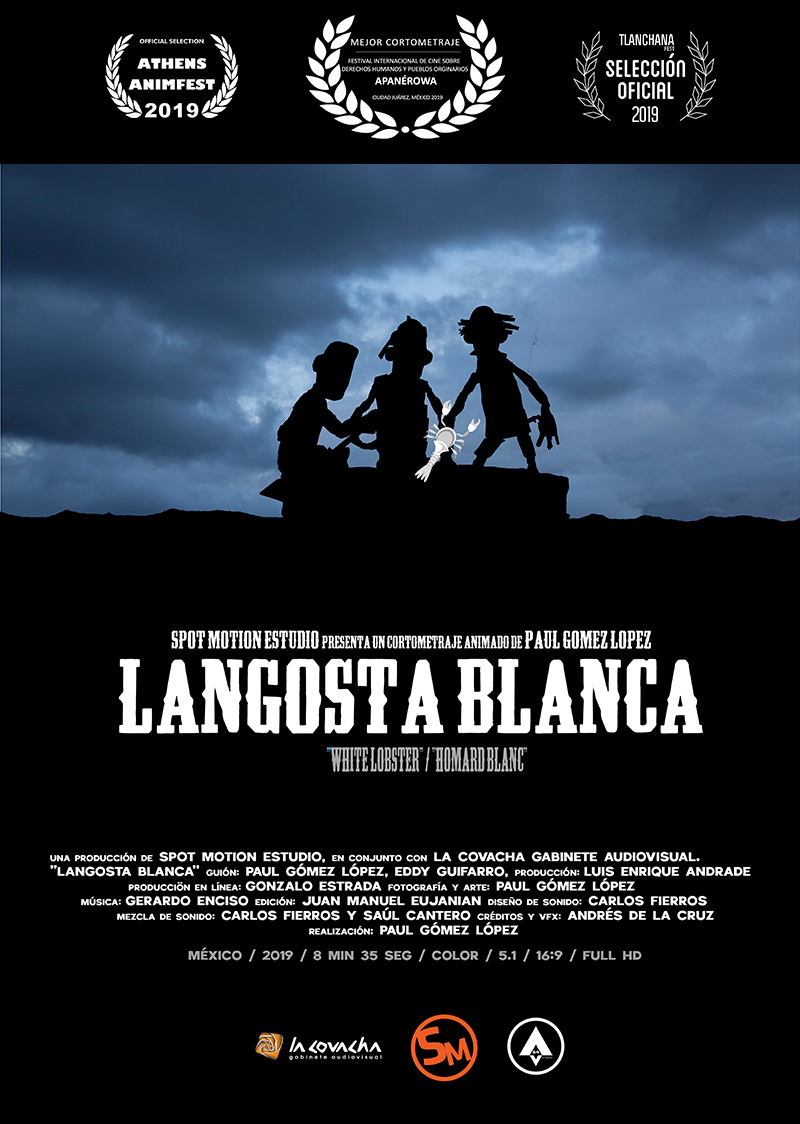 Paul Gomez Lopez