Fantasmia
Luise Fiedler
7:00 | Germany | 2019
A woman is lying in an empty room. Her body twitches in pain, she hurts herself and screams. Confused by this unknown feeling, she feels how she feels
slowly changed and a strange creature grows out of it as if it came out
another world. After she takes some time to get this little one
Accepting beings as yours, she wants to proudly show it to the world, convinced
that others will share their enthusiasm. But after they have fought through the jungle of submissions and deadlines, every possibility of presentation is denied. She gets rejection after rejection and
fades a little more each time Until one day she receives an invitation. Full of joy she packs her suitcase, grabs her little being and drives off. But when she can finally show her work, she only reaps laughter and
Malice. Sad, discouraged and disappointed, she goes to another invitation. Without hopes
she shows her work, almost ashamed of it as the visitors
surprisingly react positively. The woman who doubted herself and her creature before, blooms again and reconciles itself with its work. Again
full of power for action, filled with ideas and impressions, she travels back home
and places the little creature, which has become old and colorless, in the
Showcase to the others. her body trembles again, it starts again
to glow and tremble inside and so she goes back into her empty room, ready to surrender fully to the power that has her body under control. A
new pain announces a new beginning. What will it be this time?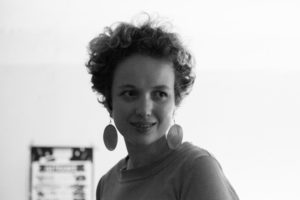 About Director
Born in 1985 in Dresden, Germany. Studied Illustration at the Academy of Applied Science, Hamburg. From 2012 to 2015 she studied a Master of fine Arts at the Academy of Fine Arts in Hamburg. In the last years she has produced several award winning animation movies and was involved in international movie and theater productions. She currently works as a freelance filmmaker and a teacher at the Academy of fine Arts of Dresden.
DER KOLOSS VON RHODOS, Animation, 2009 DE, 02:22
MANCHMAL, Animation, 2010 DE, 01:26
FROZEN CHARLY, Animation, 2010 DE, 03:08
SIRENIAS, Animation, 2010 DE, 02:20
WOLFGANG, Animation, 2010 DE, 02:41
FALLING, Animation, 2011 DE, 02:44
GEBURTSTAG, Animation, 2011 DE, 02:41
CHASSÉ – mit Teis Syvsig, Animation, 2012 DE /DK, 04:49
NACKT, Animation, 2012 DE, 03:26
WENN ES KNISTERT, Animation, 2013 DE, 03:31
KRIEG IM FRIEDEN, 2015 DE, 11:30
FLÄCHENDECKEN, 2017 DE, 6:46
FANTASMIA, 2019 DE, 7:21