God Has Already Gone Ahead | Gott ist schon weg
PETER BÖVING
10:00 | Germany | 2018
The Egyptian geese marches through the ages: From the bird´s perspective, a centuries-long settlement history is told. While the water level in the pond continues to fall, the inhabitants have the water up the neck. In the end, nothing stays as it was, only the goose suspects nothing bad.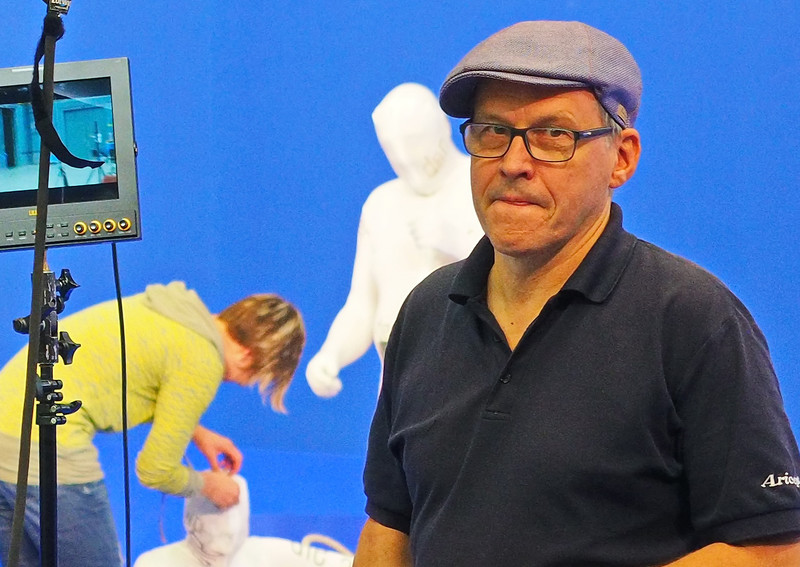 About Director
PETER BÖVING
PETER BÖVING was born in 1961 in Muelheim an der Ruhr, in North Rhine-Westphalia. In 2010 he founded the animation studio "Kloetzchenkino". From 2006 to 2011 he held various commissions in the advertising film and music film industry (please refer filmography). In 1999 he founded the audiobook label "Shower Records" and he published numerous CDs in the field of literary dubbing, funk and jazz in the distribution of EICHBORN (please refer discography). From 1993 to 2003 Peter Boeving made extensive tours with his own literary program, he visited the Goethe-Instituts in Germany, Switzerland, France, Scandinavia, the Baltic States and Russia. Since 1983 he works as a musician and since 1990 he works as a composer in the field of theater music, mainly in North Rhine-Westphalia. (German) * geboren 1961 in Mülheim / Ruhr * s e i t 2 0 1 0: Realisierung von Kurzfilmen insbesondere Legofilmen / Gründung des Labels "KLÖTZCHENKINO" * 2 0 0 6 – 2 0 1 1: diverse Auftragsarbeiten im Bereich Werbefilm und Musikvideo (siehe Filmographie) * 1 9 9 9: Gründung des Labels "SHOWER RECORDS – zahlreiche CD-Veröffentlichungen im Bereich Literaturvertonung, Funk und Jazz im Vertrieb von EICHBORN (siehe Diskographie) * 1 9 9 3 – 2 0 0 3: ausgedehnte Tourneen mit eigenen Literaturprogrammen, u.a. über die GOETHE – INSTITUTE in Deutschland, Schweiz, Frankreich, Skandinavien, dem Baltikum und Russland * s e i t 1 9 9 0: als Komponist im Bereich Theatermusik tätig, vorwiegend in Nordrhein-Westfalen * s e i t 1 9 8 3: hauptberuflich als Musiker tätig A W A R D S / F I N A L S 2014 * 7th ZEBRA POETRY FILM FESTIVAL BERLIN (Berlin, Germany) *JURY AWARD (RITTER SPORT FILMPREIS) 2014 * 24th BLICKE FILMFESTIVAL DES RUHRGEBIETS (Bochum, Germany) *PRIZE FOR EXPERIMENTAL ART AND ANIMATION (PREIS FÜR EXPERIMENTALE KUNST UND ANIMATION) 2014 * KURZSUECHTIG LEIPZIG (Leipzig, Germany) *AUDIENCE AWARD 2014 * OPEN EYES FILMFEST MARBURG (Marburg, Germany) *PREISTRÄGER ANIMATION 2015 * KRIMI NORDICA (Itzehoe, Germany) *PREISTRÄGER 2016 * LOS ANGELES CINEFEST (Los Angeles, USA) *SEMI-FINALIST 2016 * REFLECTA FILMFESTIVAL (Mainz, Germany) *2. AWARD WINNER 2016 * San Mauro Film Festival (Turin, Italien) *SEMI-FINALIST 2017 * FILMTHUER FILMFESTIVAL (Erfurt, Germany) *BEST SCREENPLAY 2017 * 30th EXGROUND FILMFEST (Wiesbaden, Germany) *BEST OF SHORTS 2017 * THE BEST INDEPENDENT INT'L FILM FESTIVAL (Karlsruhe, Germany) *NOMINATION BEST EDITING 2017 * BUNDES.FESTIVAL.FILM (Mainz, Germany) *PREISTRÄGER Deutscher Generationenfilmpreis 2018 * POETRYFILMPREIS WEIMAR (Weimar, Germany) *AUDIENCE AWARD 2018 * FILMTHUER FILMFESTIVAL (Erfurt, Germany) *JURY AWARD *CREATIVE AWARD *NOMINATION GRAND PRIZE 2019 * LAKE VIEW INTERNATIONAL FILM FESTIVAL (Kalkota, India) *BEST ANIMATION FILM 2019 * INDEPENDENT SHORT AWARDS (Los Angeles, CA 90028, USA) *BEST ANIMATION SHORT 2019 * SHORT OF THE YEAR (Madrid, Spain) *DISTRIBUTION PRIZE 2019 * REDWOOD FILM FESTIVAL *WINNER OF JANUAR 2019 EDITION 2019 * MEDFF – MEDITERRANEAN FILM FESTIVAL *SEMI FINALIST 2019 * FESTIVAL CINEMATOGRÁFICO DE MÉRIDA *BEST ANIMATION SHORT 2019 * ACCOLADE FILM COMPETITION *AWARD OF MERIT: ENVIROMENT 2019 * NANO INTERNATIONAL FILM FESTIVAL (NIFF) *SEMI FINALIST 2019 * UTAH FILM FESTIVAL *SEMI FINALIST 2019 *14th ATHENS ANIMFEST *EDUCTIONAL AWARD F I L M O G R A F I E A N I M A T I O N S F I L M KLÖTZCHENKINO "GOTT IST SCHON WEG" Länge 10:00 Produktion 2018 KLÖTZCHENKINO "patata day" Länge 4:00, 2016 * FBW (DEUTSCHE FILMBEWERTUNGSSTELLE): PRÄDIKAT 'BESONDERS WERTVOLL' KLÖTZCHENKINO "essen – stück mit aufblick" Länge 10:09 Produktion 2013 KLÖTZCHENKINO "@-mund" Länge 5:43 Produktion 2010 W e r b e f i m | V i r a l SHARP (SHARP Elektronics) "Testbild" 2007 SWISS (SWISS INTERNATIONAL) "Kamikaze Piloten" 2007 AUTOSCOUT 24 "Sie verlässt ihn!" 2007 SPARHANDY "Grossraumbüro" 2007 DIALO (dialo.de) "Spanischer Liebhaber" 2007 FRIENDSCOUT 24 "Casablanca" 2007 TIPP 24 "Straßenmusiker" 2007 HANDYPORTO.DE (Post AG) "Vater vs. Tochter" 2007 GERMAN WINGS "Monopoly" 2007 TIPP 24 "Knastkönig" 2007 ONLINESTYLER (Schwarzkopf) "Mädelsabend" 2007 IMMOSCOUT 24 "Monopoly" 2009 DELTAPRONATURA Dr. Beckmann "Spinatschlacht" 2009 DELTAPRONATURA Dr. Beckmann "Selbstbefriedigung" 2009 CNIEL Sopexa S.A. Deutschland "Vive le Käse"- (Kampagne) Prod. 2010 -2011 M U S I K V I D E O EMI /Sunrise Avenue "Ablutomanie in XXL" 2007